What is Christian Counseling?
Christian counseling is counseling that draws upon psychology and the word of God. Practitioners approach psychology through the lens of the Bible and reliance of Holy Spirit, psychotherapy, coaching, mental science, psychology, behavioral therapy and the bible to solve the problems that plague people.

We believe that counseling is a process whereby a counselee seeks to resolve personal, interpersonal, and/or spiritual difficulties with the assistance of a trained, certified professional individual.

Benefits of Working with a Christian Counselor


Christian counseling focuses on a few main principles that are different from traditional counseling. It focuses on the care of the whole person, body, soul and spirit  and brings total transformation in your life, family, marriage or organization.

A christian counselor doesn't just focus on psychology and mental science alone to help their clients, they also draw from knowledge on the word of God, hearing the holy spirit as well as utilizing spiritual tools and techniques to hep their clients.
Astronomical growth in the Christian Counseling Industry
Since 2000 the coaching industry has grown over 600%. More and more people see the tremendous advantage and  undeniable results that come from working with a good Christian counselor.​
​
You will learn the secrets to creating a highly profitable christian counseling practice, promotion, marketing, branding, apps, technologies and how to get more clients daily. 


​We train you, certify you in christian counseling and biblical counseling and give you everything you need to know and do to become a successful christian counseling.
No other certifcation agencies can give you what we give you here at NAACC.
​
After completion you will receive a full size framable coaching certificate. Plus one full year of NAACC membership and continuing education.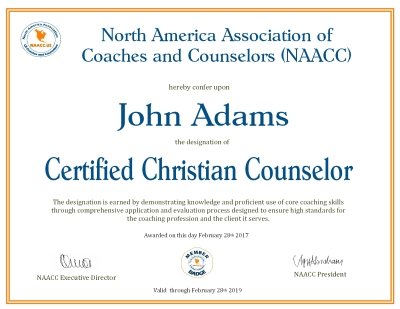 Christian Counseling Certification Modules.

$2995.00

Special Pricing (Limited time only)
$995.00
​

With your certification and training as a Christian Counselor with NAACC. You will be a specialist in these fields and can also have a private pratice as a:

- Faith Based Counselor

- Biblical Counselor


- Spiritual Counselor


- Life Experience Counselor


- Christian Sex Therapy Counselor


- Relationship Counselor


- Marriage Counselor
Christian Counseling Certification Modules
Here is a list of the modules (courses) and training you'll receive in our certification program

Module 1: The Essentials of Christian Counseling, Models & Practices (Ebook)
Module 2: Foundation Of Counseling (Video)

Module 3: The Profile and Principles of Counseling (Video)


Module 4: How to do Counseling (Video)

Module 5: Principles Of Christian Counseling (PDF)

Module 6: 10 Strategies to Getting Coaching/Counseling Clients for your New Private Practice (PDF)

Module 7: Setting up your coaching and counseling practice (video)

Module 8: Setting up your coaching and counseling practice (Download)

Module 9: The 18 Guaranteed ways to make 6 figures income (video)

Module 10: C.P.A. Method and techniques of Coaching and Counseling practice (video)

Module 11: Caring for the Counselor (video)

Module 12: Selling $100 million dollars of online products (ebook special)

​

BONUSES:
New Counselee intake form/contract (Download)
Independent Agreement form for contractors (Download)
3 Stages of Counseling (Download)
The Counselor's sheet (Download)
Biblical counseling waivers (Download)
COMPREHENSIVE EXAMINATION
Christian Counseling Certification Comprehensive Examination
Certification Examination: You will need to score 80% or more to pass the certification course and become a certified christian counselor with NAACC. If you score less an 80% in your examination you will need to retake the course.


With NAACC Counseling Certification, you'll learn to:
Develop a biblical philosophy of the Christian life that includes active involvement in a community of believers.


Develop a biblical philosophy of counseling that emphasizes the call of all believers to take part in the work of counseling and discipleship.


Understand the basic meaning of biblical counseling.


Acquire a basic understanding of the general and specific methods of biblical counseling.


Cover various counseling related issues that include marriage, relationship, depression, anger, anxiety, addiction, and sexuality etc.
Christian Counseling Certification Modules.

$2995.00

Special Pricing (Limited time only)
$995.00
​

Is Christian Counseling for you? If you can answer "Yes" to any of the points below, you can become a successful, certified and praticing christian counselor.

1.Your heart is moved by the brokenness and suffering you see all around you, both in the world and in the Church, and you want to help.
2. Because you are a good listener, people are already coming to you with their problems and you have been able to offer some help. But you want to do more.
3. You don't want to just put on Band-Aids that cover the symptoms but don't heal the infection. You want to see changes that last because root issues have been dealt with.
4.You want to create good income for yourself and family helping people with spiritual counseling. 
Please note that NAACC does not license for the state or government. Only state agencies can license mental health counselors.


Our program is strictly for biblical/christian counseling. Why go through 7 years of school and over $80,000 in debt when you can get trained and certified as a Christian counselor and start helping people and increase your income immediately!   
Christian Counseling Certification Modules.

$2995.00

Special Pricing (Limited time only)
$995.00
​